Please read important information regarding update on COVID-19, March 13, 2020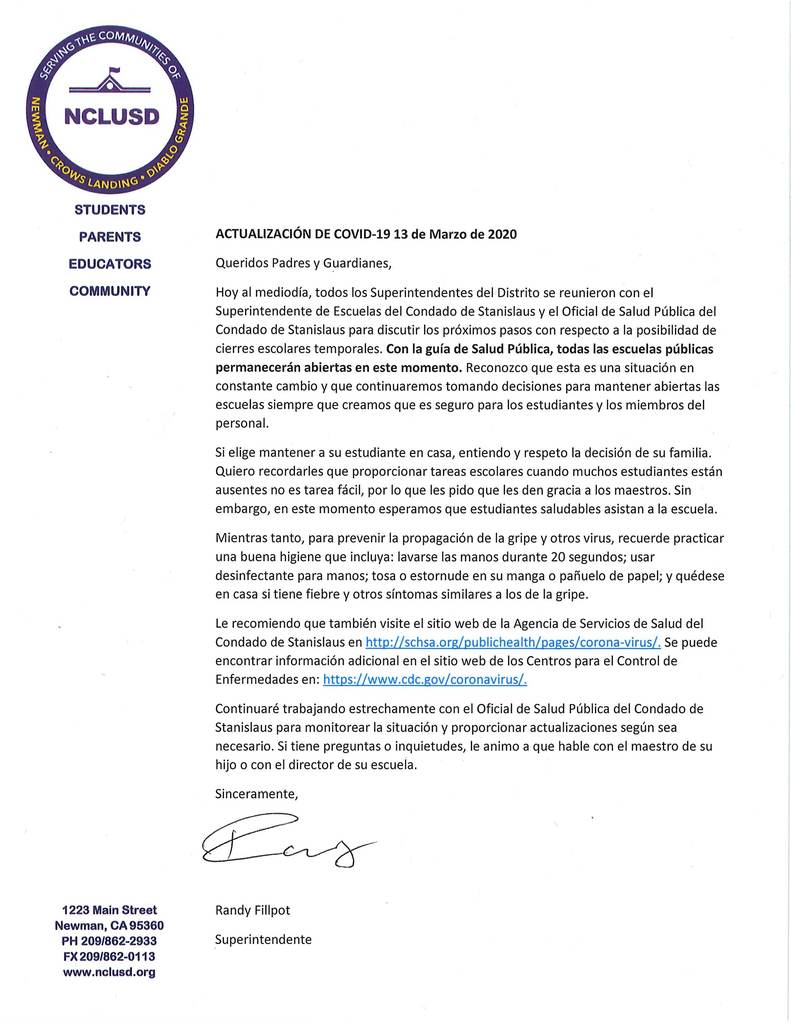 At this time, the health risk to the general public in California from novel coronavirus remains low. As with any virus, especially during the flu season, there are a number of steps you can take to protect your health and those around you. The Newman-Crows Landing Unified School District is advising parents, as we always do, to not send your child to school if they are sick.

When we return from the long weekend NCLUSD will officially go live with our new electronic flyer delivery system Peachjar! This "electronic backpack" is going to allow parents/guardians to access important flyers without ever having to dig through a student's backpack again!

Our Peachjar launch date is almost here! Beginning February 18, 2020 Peachjar flyers will be sent directly to your email inbox, you can access flyers while on the go, sign up for programs and events with the click of a button, and easily share flyers via social media.

Great news, with power fully restored in Newman we are expecting the school day to run as scheduled. All USDA guidelines are being followed and necessary precautions are being taken to ensure food safety for our students and staff following the power outage.

The power is back on in Newman and all schools are open. We are looking forward to seeing all of our students for a great Monday!

It appears that Newman could be without power until 3:30 pm tomorrow (2/10/2020). We will still open every school tomorrow as a safe place for children to be. There will be a limited food service tomorrow, no lights, no internet, but a lot of time to read books and build relationships!

Footsteps 2 Brilliance is a comprehensive literacy app available to all children age 0-5 and TK-3rd Grade in Newman, Crows Landing and Diablo Grande. Please click for additional information.

Please register your returning student for the 2018-19 school year. Registration must be completed before the start of school, August 14, 2018.